Mills Crafts offer a full line of pinewood derby cars, pinewood derby kits and pinewood derby pre cut bodies. They are designed to be the fastest cars possible with lots of options for your own creative juices to run wild. Our pinewood derby car bodies and kits are made with the novice in mind as well as the experienced racer for ease of building and finishing. We wanted to create a kit that the beginner could complete by following a few simple steps and have a competitive car. We feel our pinewood derby products are second to none in quality and ease of building. Our Pinewood Derby Cars are made in the U.S.A. in Southern California.
Best Wood, We use Sugar Pine for all our cars. Sugar Pine is the best for ease of cutting, carving and superior for painting. Sugar pine cost more than other species of pine or bass wood. Most of the pinewood derby kits on the market are usually made from these inferior types of wood. Some of the other pine species are too hard and split when installing the axles or too difficult to work by hand. Bass wood is soft and easy to carve but is inferior to pine when finishing.
Precise Axle Slots, We take pride in cutting our axle slots correctly so the novice builder doesn't have to be concerned with fixing the axle slots before installing wheels and axles. We also have developed what we call keyhole axle slots, see picture below. It is a combination of axle slot and drilled hole. This makes it very easy to install the axles correctly.
Pre Drilled Weight Holes, We offer many pinewood derby car designs with pre drilled weight holes. They are positioned in the car body with optimum weight placement in mind. The weight holes are easily filled with you favorite weight, tungsten, steel, lead and or other. The holes are drilled to 25/64" dia. slightly larger than 3/8"dia. which is what most pinewood derby weight is made for ease of installation.
Cool Pinewood Derby Car Designs, Mills Crafts was the first to produce the full body pinewood derby car. We were asked by Raceway Ministries to make a kit that looked like a NASCAR. Raceway Ministries is a non-profit organization that provide family services at the NASCAR event around the country throughout the year. Many of the tracks have a pinewood derby event for the families that camp in the infield on race weekend. We have been making these Stock Car bodies for them since the "90s.
In 2009 SEMA asked me to develop a Mustang version of our full bodied car. SEMA (Specialty Equipment Market Association) holds an annual pinewood derby event to help raise funding for Child Help and Victory Junction Gang. SEMA volunteers go to several location around the country to hold build days where children from both organizations get to build their own cars and race them. The children also get to build another car for SEMA to auction off at their annual banquette. That's one of the ways SEMA raises funds and the kids have a great time too!
We are going to unveil a new Camaro design for this year. SEMA was the first to get them last year at their SEMA Derby Drags. It was a big hit with the kids.
We also make a pinewood derby race truck. We came out with this design just after the Stock Car design in the late 90s.
We will continue to develop pre cut pinewood derby designs both full body and open wheeled type. Keep an eye on our site as we will be adding more pre cut pinewood derby cars through-out this upcoming year.
Thanks and good racing!

New Stock Car Design for this year. Will be availible 1/15/2016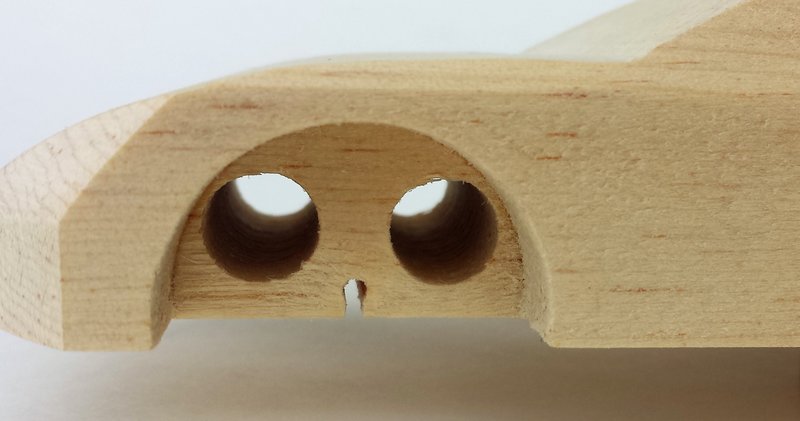 This is a peek of the keyhole axle slot. Also a good view of the weight holes for the full body design.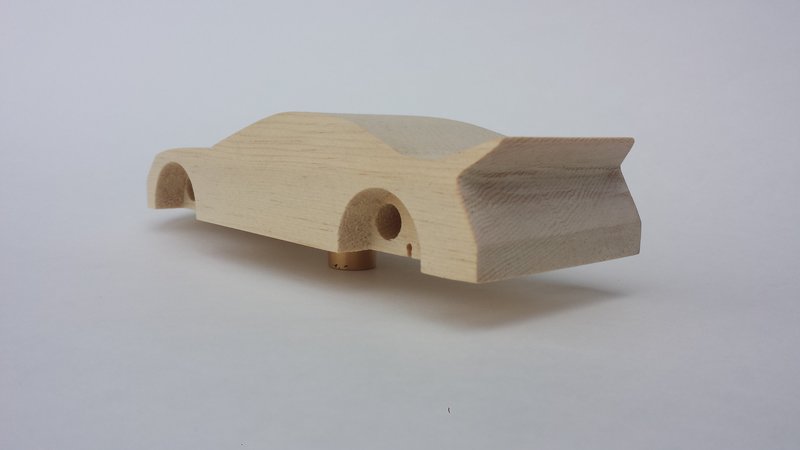 This is the back view of the new Stock Car design. Also the view the other pinewood derby kits have to get used to on the track!